| Single or Double Hung Options | Picture and Geometric Window Combination | Add indoor or outdoor shutters to any window! |
| --- | --- | --- |
| Aluminum Picture Windows with Colored Tint | Grid Windows with Geometric Touches | Classic and Elegant Looks |
| Any Size or Shape you want! | Standard, Contoured, or Simulated Grid Styles | Energy Efficient |
We partner with N T Window Company, Burris Window Company, Simenton Windows, Andersen Windows, and Don Young Company
Every line of doors we offer comes with a package of performance that is unrivaled in the industry. With a front door by Associated Home Design will you see an increase in comfort, energy efficiency and performance, and an increase in curb appeal.
​
Customize the perfect door for you with our easy step-by-step process below!
Flush Door
2 Panel - 3/4ths
3 Panel
4 Panel - Blank Top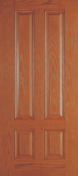 4 Panel - 3/4ths
4 Panel
6 Panel
6 Panel - Utility
9 Panel
More Customization
FULL LENGTH COMPOSITE TOP AND BOTTOM RAILS
Additional non-porous protection keeps water from seeping into the door and helps prevent the build up of mold or mildew.
FIBERGLASS REINFORCED SKIN
Fiberglass is not affected by the wear and tear of everyday use, moisture, and humidity. Our doors will not rot, splinter or warp like wood, and won't dent or peel.
FULL LENGTH COMPOSITE STILES
All Plastpro fiberglass entry doors feature full length composite stiles to prevent water infiltration into the door and ensures our door will never warp, rot, or rust.
**While other companies may use a few inches of composite material finger jointed to wood at the bottom of their frames, Plastpro is proud to offer 100% full-length composite frames.
CLOSED CELLULAR STRUCTURE
Ensures door frame and molding will not absorb moisture and resists splitting, rotting and insect damage.
RIGID POLY-FIBER FORMULATION
Plastpro's unique poly-fiber formulation provides durability, support and reliable strength.
TWICE THE SCREW-HOLDING POWER
Our unique formulation looks and feels like wood, but is stronger and more durable.
Machine, paint, or stain just like wood frames but without the wood hassles.
PF™ Frames are available in sizes up to 17´. Plastpro is proud to be the only manufacturer to offer full composite arched and radius frames for our doors.